Field Directions
Jones Field Acton
Lexington High School
Newton North High School
Playstead Park Medford
Trum Field Somerville
Wayland High School



Directions - Lexington High School, Lexington MA
75 Worthen Road
Lexington, MA 02421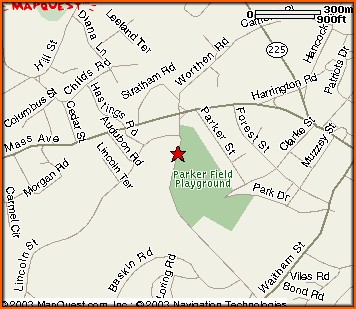 From Route 95
Take Rt-95 to Exit 31A toward Lexington (exit says Routes 4 & 225)
Go 1.6 miles and turn right on Worthen Road (there is a Walgreens on this corner)
After going through 1 set of lights, keep going. You will come to the Lexington Varsity field on your left.
From Boston
Take Storrow Drive WEST until it merges with RT-2/US-3 toward Arlington/Fresh Pond Parkway
Follow Rt-2 and Fresh Pond Parkway until you get to Alewife MBTA (road winds a lot, so just keep following Rt-2 signs)
Get onto Rt-2 West
Take the Waltham St. exit- exit number 54B- toward Lexington
Merge onto Waltham Street (toward Lexington) and go 1.3 miles
Turn left on Worthen Rd (there will be a light at this intersection)
After passing the Lexington High School parking lot, you will come to the field on the right. You can park on the street.